Resin copy of 12 Squared 1/72 scale Dayton-Wright RB-1
by Piotr Dmitruk
Dayton-Wright RB-1

HyperScale is proudly supported by Squadron.com
This aircraft was specially prepared for James Gordon Bennett Aviation Cup in 1920, designed by Howard Max Rinehart (also the pilot), and Milton C. Baumann, thus "RB" in the racer's name.

Rineharts goal was to build an aircraft capable to achieve 200MPH. Using model building techniques, designed a wing made of a solid balsa core covered with a veener. Front section of the wing acted as flaps, rear acted also as ailerons. They were interconnected together and cooperated with retracting landing gear. As the gear was extended, the flaps deflected down. All system was operated by a crank in the center of the instrument panel and took 12-20 seconds. The strength of the wing was incredible. It amazed the French when two men sat on it prior to the races, but in fact it would supprt twelve men without deflecting.

The RB-1 used a Hall-Scott L-6a ("Liberty six") engine of only 250HP.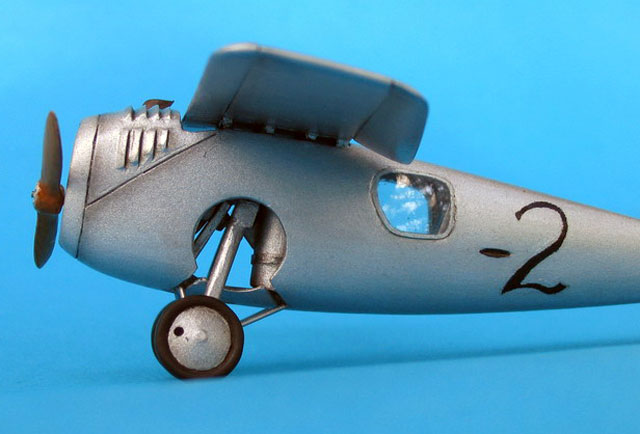 A problem was a lack of directional stability. Prior to the race Rinehart added two small end plates to the horizontal stabilizer, but it doesn't solve the problem, intensified by the lack of forward visibility. Pilot entried to the cockpit through a hatch on top of the fuselage or through one of the two windows. These windows were flexible enough for the pilot to bow them out with his head, thus earning a bit of forward visibility.

20 minutes after the beginning of the race, Rinehart dropped out due to the jammed flap, figuring he had no chance. But if he had continued the race, he would be at least second, due to mishaps that befell other contestants. The cup was won by the French Sadi Lacointe in Nieuport 29V at an average speed of 168,5 MPH, and just three days before race, Rinehart flew at 165 MPH "throttled back".

It would be twenty years before the concept of Dayton- Wright RB-1 would find a place in daily aviation. The developments of the team that built the RB-1 included the variable-camber wing, the Delco ignition system, and development of tetraethyl lead, increasing aircraft range, and leading to the Octane rating system.

Today this aircraft sits in the Henry Ford Museum of Transportation in Dearborn in rather poor condition.

Typical short run, needed grinding, filling and polishing. I made up the cockpit, made new windows, and new engine cooler.

This aircraft was painted with silver dope and polished, so I painted the kit with Tamiya flat silver paint, added shadows with pencil lead, and covered with clear lacquer.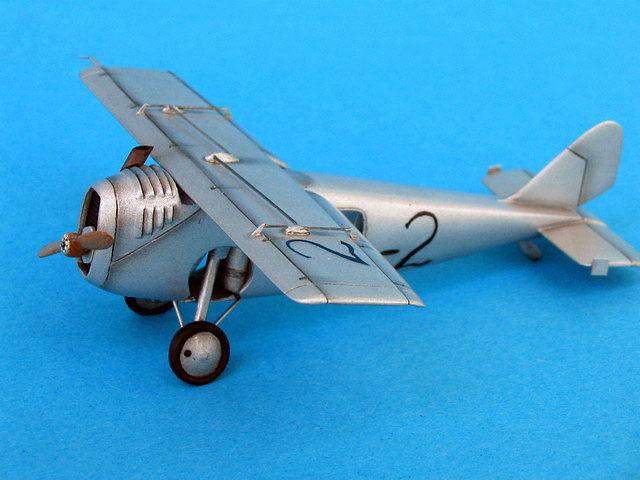 All decals were custom made.

Click on the thumbnails below to view larger images:
---
Model, Images and Text Copyright © 2006 by Piotr Dmitruk
Page Created 30 November, 2006
Last Updated 06 December, 2006